---
---
Taste and feel the burn!!
Better yet, experience the hype and take your body from mediocre and into extreme fat burning mode! BSN Hypershred is made sugar free with no cheap energy. Packed with cutting-edge ingredients designed to maximise mood, enhance energy and optimise fat loss, Hypershred's comprehensive thermogenic matrix is second to none.
Mood Enhancement
Supreme Focus
Appetite Suppression
Nailing the 3 pillars of fat loss optimisation, Hypershred will give you the energy and focus you need to perform at your peak both physically and mentally while also supporting fat loss through appetite regulation.
Ward off those extreme hunger cravings and experience the hype of BSN Hypershred.
Key Ingredients
Acetyl L-Carnitine (ALCAR)
L-Carnitine supplementation has been linked to increasing circulatory Carnitine Palmitoyltransferase levels, which is an enzyme responsible for the transportation of fatty acids in the blood so that they can be burned as fuel in the muscle.  By adding an Acetyl ester, users of ALCAR may also experience increased brain function due to an increase in the learning neurotransmitter, acetylcholine.
L-Tyrosine
L-Tyrosine works two-fold in a fat burner by helping support the biosynthesis of adrenaline and dopamine in the brain, which helps with energy and mood, as well as being a critical amino acid used in the conversion of inactive thyroid hormone to active hormone and therefore improved metabolic health.
Caffeine Anhydrous
Supplementing with caffeine increases lipolysis, which is the breakdown of fat, as well as enhances performance through an increase in mental focus, physical effort, and exertion.
Green Tea
Supplementing with Green Tea daily has been shown to support healthier metabolic performance during dieting phases and may help prevent some of the down-regulation experienced during phases of low calorie intake.
Green Tea has also been linked to appetite suppression in some individuals.
L-Theanine
Found naturally in Green Tea, L-Theanine helps calm the mind without causing any sedation and can assist with mood by controlling calmness, which can support appetite control.
Longan Extract
Used for centuries in ancient cultures, Euphoria Longan Extract helps support mood, energy regulation and potential enhancement of cognitive function and memory retention.
Final Thoughts
Take your training and fat loss to the next level. Taste and feel the burn!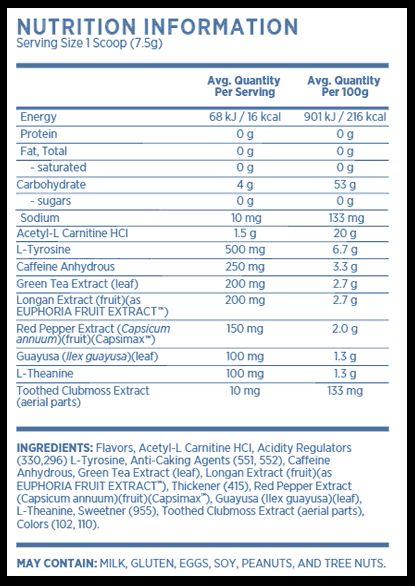 ---