---
---
Optimum Nutrition Gold Standard Gainer 5lb
Protein and Carb Recovery Formula
Gold Standard Gainer is built on a foundation of complete dairy proteins, mostly from isolate sources. The carbohydrate blend includes oat, pea and potato and the fats include medium chain triglycerides, chia and flax. Obviously, this is not your typical gainer formula. ON took it a step further by making it easy to mix up in a shaker cup. No blender needed. This is the new Gold Standard for weight gain.
Complete Proteins From Primarily Isolate Sources

Complex Carbohydrates Oat, Pea & Potato

Fats From Flax, Chia & MCTs

Mixes Easily Into Cold Water or Milk

Banned Substance Tested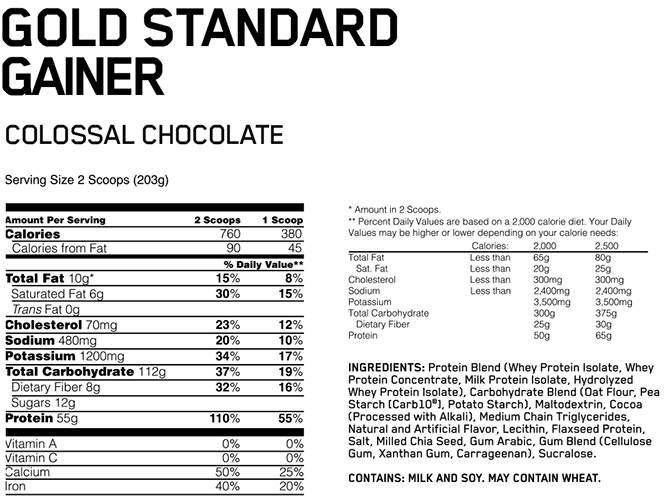 Optimum Nutrition Gold Standard Pre-Workout 30 Serve
THIS PRE-WORKOUT IS AS GOOD AS GOLD
ON's new Gold Standard Pre-Workout unleashes amplified energy, focus, and supports enhanced endurance to help you reach the pinnacle of your game, crush your next set, get that last rep, and achieve some true gains.* Whatever your goals, accomplish them all with the pre-workout from the most trusted brand in sports nutrition.
BEYOND THE BASICS
375 mg of Acetyl-L-Carnitine HCI

250 mg of N-Acetyl-L-Tyrosine

Muscle Matrix including 25 mg of AstraGIN

Banned Substance Tested
This formula raises the bar by providing you with only what you need to achieve your True Strength —made with select banned substance free ingredients, including caffeine from only natural sources (tea and coffee bean) to help dial in intense energy, mental alertness, and sharp focus before you hit the gym. Gold Standard Pre-Workout is also made with only premium ingredients including CarnoSyn Beta-Alanine, which supports your intramuscular buffering system to help you train harder, longer and German-engineered Creapure Creatine Monohydrate — one of the industry's most well-known providers of high purity creatine monohydrate.* Finally, the Gold Standard of pre-workouts includes L-Citrulline Malate — a precursor to Nitric Oxide (N.O.) synthesis and other ingredients such as AstraGIN and Acetyl-L-Carnitine HCI to round out this powerful formulation.
CHOOSE YOUR STRENGTH
The Gold Standard of Flavors: ON has also raised the bar on flavor. Available in options such as Blueberry Lemonade, Watermelon, Green Apple, Pineapple and Fruit Punch, Gold Standard Pre-Workout leaves all other pre-workouts behind on performance AND taste. You take your workouts and performance seriously. Don't settle for a second place product, get the legit pre-workout that's as GOOD AS GOLD!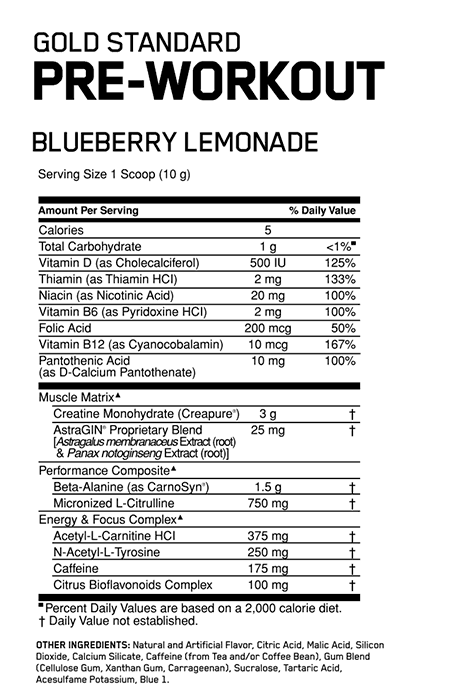 Directions For Gold Standard Pre-Workout: Mix each scoop with 6-8 oz of water and consume 20-30 minutes before training. Start with 1 scoop or less to assess your tolerance. DO NOT EXCEED 2 SCOOPS PER DAY.
Warnings: CONSULT YOUR PHYSICIAN BEFORE USING THIS PRODUCT IF YOU ARE TAKING ANY MEDICATIONS OR ARE UNDER A PHYSICIAN'S CARE FOR A MEDICAL CONDITION. NOT FOR USE BY THOSE UNDER THE AGE OF 18, WOMEN THAT ARE PREGNANT, TRYING TO GET PREGNANT, OR NURSING, OR THOSE THAT ARE SENSITIVE TO CAFFEINE, NIACIN OR BETA-ALANINE. DO NOT CONSUME CAFFEINE FROM OTHER SOURCES WHILE TAKING THIS PRODUCT AS TOO MUCH CAFFEINE MAY CAUSE NERVOUSNESS, IRRITABILITY, SLEEPLESSNESS, AND OCCASIONALLY RAPID HEARTBEAT. BETA-ALANINE AND NIACIN MAY CAUSE A HARMLESS, TEMPORARY TINGLING OR FLUSHING SENSATION. KEEP OUT OF REACH OF CHILDREN. Contains 175 mg of caffeine per scoop.
Optimum Nutrition Gold Standard BCAA 28 Serve
TRAIN + RECOVER
Gold Standard BCAA is built on a foundation of Branched Chain Amino Acids prized by athletes for their ability to spare muscle during endurance training and help kick start the muscle building process after weight training. This banned substance tested formula also includes electrolytes, antioxidant vitamin C and other performance supporting ingredients in a lightly flavored mix that encourages drinking throughout your training.
BCAAs for Muscle Support

Wellmune® for Immunity Support

Rhodiola for Endurance Support

220 MG of Performance Supporting Electrolytes

15% of the Daily Value for Vitamin C

Banned Substance Tested

Just 15 Calories Per Serving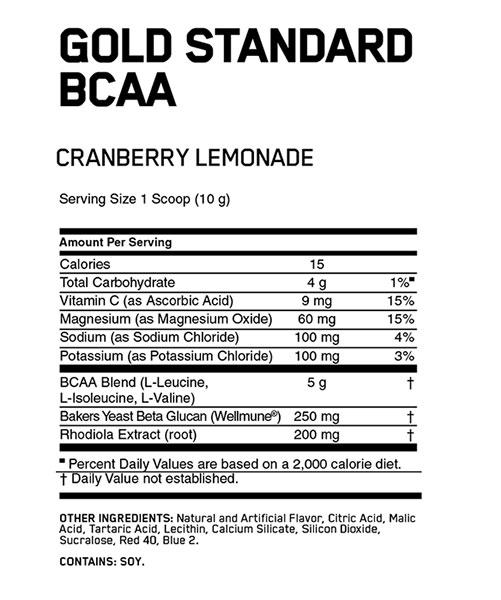 ---